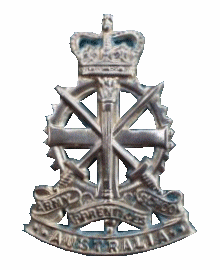 Army Apprentices' Association of Australia
http://www.austarmyapprentice.org/
The Objectives of the Australian Army Apprentices Association Inc are:
To enable constant communication between members
To promote the interest of members through the Association.
To promote the welfare of members and spouses.
To promote the maintenance of the Marine Gates, Mace Oval and the Parade Ground.
To create a record of the members' history, and that of the School.
Support of any related museum and relics.
To promote the concept of Army Apprenticeships.
To recognise the contribution of members to Australia and the Army
Army Apprentices graduated to the Corps of: RAEME; RAE; RASigs; RAAOC; RAASC; RAInf/AABC

The latest AAAA (February 2018) Newsletter "The Apprentice About" can be downloaded from this link: Click Here

LTCOL Wally Rotow (Rtd) - 18th Intake Radio Mechanic - has compiled a set of facts and figures
relating to the Army Apprentices and their Army Service, for the Australian Army Apprentices' Association (AAAA).
"AAS Fast Facts" can be downloaded from this link: Click Here