Operation Spanner Pack

The Corps of RAEME at any one time has a number of soldiers who are serving on operations and other areas on overseas deployment. The RAEME Associations, with your assistance, sends Spanner Packs (not tools) to our CORPS. These packs contain items not supplied by Defence or locally available, which will assist our soldiers to live more comfortably and enjoy some of those favourite things they miss from home. To date (May 14) over 3150 packs have been provided to soldiers on deployment.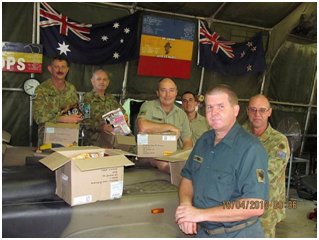 We have surveyed many of our recent returned soldiers and many of those about to leave for overseas and we are in the process of putting together lists of favourite items most preferred by the soldiers. Some of these favourite items are food (Vegemite, biscuits and lollies), magazines, packs of cards, hygiene items, games etc. This project is not state, trade or Unit specific and it is hoped that every soldier will receive at least one pack on each rotation deployment/posting overseas.

You can assist us by individual financial donation, becoming a commercial sponsor with appropriate product and/or dollars, putting us in touch with other possible sponsors, that you know would be willing to assist us in this very important CORPS project, and all of the above. We are very open to suggestions and assistance. We are sure that all of our members and contacts will be very willing to assist in some positive way. We are also sure that all returned soldiers will know the importance of this project "Operation Spanner Pack", and will support this worthy project.

More information can be obtained from the RNA via www.raeme.org.au contact us page The more we receive the more our soldiers will benefit. We have no end date for this project. However, when that day comes, any fund not expended will be held by the RAEME National Association (RNA) and used for the benefit of all members of the RNA, past and present.
Ray Norman - Spanner Pack Coordinator - received this message regarding Spanner Packs for RAEME personnel on deployement:
Hi Ray,
Just a quick email to thank you and your team for the Spanner Packs that we recently received here in Kabul. I know all the RAEME guys here appreciated the items that they received and, perhaps as importantly, the fact that there are people back in Australia who realise we still have an enduring presence here in Afghanistan fighting to ensure the security of Afghanistan, Australia and the home nations of the broader Coalition (https://www.rs.nato.int/default.aspx).
As you may be aware, we have a quite number of Australians providing Train, Advise, Assist (TAA) to the Afghan Army and Police in their fight against the insurgents. What you may not be aware is that a number of us are providing this function from a log (including maintenance), medical and ICT perspective. Indeed, the two most senior advisors to the ANA and ANP on logistic matters are both Australian military.
From a logistic perspective I think both the ANA and the ANP are doing pretty well as they have been able to sustain all six Corps of the ANA in the fight this year as well as all the Police Zones, the Afghan Air Force and the Special Forces. Winter has just started to bite with the first snow in Kabul and so the focus for us at the moment is getting the cold weather clothing, winter fuel and associated items out to all the units (using the ANA and ANP distribution networks) before the roads all close. At the same time we are stocking up the Corps and Zones with repair parts so they can reset their units over the winter period.
All the best to your committee and please pass on my thanks to all involved in preparing and distributing the Spanner Packs. As you would know from your own experiences, just the knowledge that there are people back in Australia who are proud of what is being achieved is a big deal for our team here on the ground.
Merry Christmas,
(Name & Details withheld)
Brigadier (OF-6) AUS Army